Who am I?
Personal Details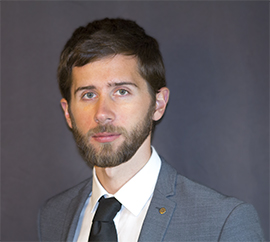 Name: François Lehouque
Age: 25
Nationality: French
Address: Annecy, France
Phone: (+33) - 695-399-073
Email: francois@lehouque.fr
About me
Having finished my 18 months contract for Thales Communications & Security in the Sultanate of Oman as the Resident Network Engineer of a military project, I am looking for a new exciting experience as a Network and System Engineer. I am available immediately and willing to relocate internationally.
My Professional Background
Work Experience
2013 November

-

2015 April
Thales Oman LLC.
Muscat, Sultanate of Oman
Resident Engineer
Administration, support and maintenance of a tactical IP network based in Muscat, Oman

Management of civilian and military equipment (Cisco, Thales)
Administration of Cisco ISR, Cisco Call Managers and VPNs
Interface between the project manager, local officers and technical teams

System integration, verification and validation of military vehicles (HF/VHF radios, LOS/Microwaves, Satellite)
Led the training of soldiers and officers on military networking and telecommunications
On-site deployment with the Omani and GCC armies during military operations

Managed teams of technicians and soldiers on the field throughout deployments
2012 September

-

2013 October
Thales Communications & Security
Paris, France
System Engineer
Deployment of a LTE tactical network for a demonstration in the United Arab Emirates (Abu Dhabi)

Integration and administration of infrastructure equipment (Nokia-Siemens, Cisco, Teldat)
Test scenarios development: performances, resilience, tactical video conferencing
On-site deployment, tests and local technical team management

Design of a new node core architecture for a tactical IP network using virtualization

Verification and validation of a military infrastructure IP network
Integration of VoIP, virtualization (ESXi + Cisco SRE in ISRG2) & HF/VHF/LOS transmissions
2010 July

-

2011 January
Cisco Systems, Inc.
Paris, France
System Engineer Intern
Testing platform design for the Orange Business Services (OBS) account

Design of an ISP core network architecture (MPLS-VPN, BGP) for experimental, pre-sales and post-sales purposes
Collected pre-sales teams requirements & deployed the network on-site (Brussels)
Configuration of Cisco Catalyst Switches (4500, 6500) and routers (7600, CRS-1/CRS-3)
2011 August

-

2013 March
Université du Québec
à Chicoutimi
Master's Degree in Computer Science
Cryptography (DES, AES, RSA), Computer Security
Virtualization (VMWare ESXi, vMotion), IPv6
Project Management (PMBOK Guide, Gantt, PERT, Risks and quality management)
Distributed Databases (XML, SparQL), Distributed Systems (Load Balancing, SOA)
Artificial Intelligence (Prolog)
2009 September

-

2013 March
Université de Technologie
de Troyes
Master's Degree in Information Systems and Telecommunications
Specialization in Network Design and Telecommunications
Engineer diploma (Master's degree)
Service Provider Networking (MPLS & BGP protocols, xDSL technologies, IPv6), WAN
Network services : DNS, LDAP, Mail (SMTP, POP), SNMP, Paravirtualization (Xen), VoIP (RTP/RTCP, Asterisk)
IPv4/v6 network administration (LAN) with Cisco Technologies
Project Management : New methods of collaboration, Agile software development (Scrum)
Telecommunications, GNU/Linux Administration, shell scripting, Web Development, Human-Computer Interfaces, OOP (Java), UML.
2007 September

-

2009 June
Université de Savoie
IUT d'Annecy le Vieux
Bachelor's Degree in Networks and Telecommunications
DUT - Technological university Degree (Bachelor's degree)
Networking, LAN, WAN, Telecommunications, VoIP (Asterisk)
GNU/Unix Administration, shell scripting, Windows 2003/2008 server, Web Development, OOP (C++, Java).
What I'm best at
Skills & Knowledge
Technological skills
Network design, architecture & administration
85%
Radio transmissions and telecommunications
80%
System integration, verification, validation and qualification
80%
Certifications
CCNA
Cisco Certified Network Associate, Routing and switching
2009
Knowledge
Infrastructure Networking (MPLS, BGP, xDSL)
Voice over IP (Cisco CM, IPBX, PABX)
Virtualization (VMWare ESXi, Xen, Cisco SRE)
Network services (VPN, LDAP, SNMP, Mail)
LTE Networking (4G), GSM & WiFi (a/b/g/n)
IPv4 & IPv6, Management & VLAN
Network security (IPS, ACL, Firewalling)
System administration - Scripting
Microsoft Office Suite, ERP (SAP, OpenERP)
Project Management (PMBOK)
Hobbies & Interests
Sports

Sports

Ice Hockey, Hiking, Biking, Beach Volley, Ski, Rock climbing, Kayaking

Photography

Photography

Nature and travel photography, editing with Adobe Photoshop Lightroom.

Medias

Medias

Following international news (BBC, NPR, Euronews), North American and British movies and TV shows.

Technology

New Technologies

Technology watch (Reddit, Arstechnica, Lesnumeriques)

Travel

Travel

Camping adept. Travelled to and/or worked in Canada, USA, England, Scotland, Spain, Germany, Czech Republic, Belgium, Switzerland, Italy, Greece, Tunisia, Oman, Kuwait, Bahrain, Qatar, United Arab Emirates, Sri Lanka...

Music

Music

Saxophone and accordion player, studied for 10 years at the Conservatoire d'Annecy.
Played for 5 years in an Harmonic Orchestra

Students' union

Students' union

Website development; LAN Parties, class photos, parties & contest organization

Driving Licence

Driving experience

Driving licence with winter and desert driving experience. Trucks and large vehicles experience.
Get in touch
You can use this form or the email address below to contact me.
My Address
Annecy, France
(+33) 695-399-073
I'm also on social networks
Send a message